A refreshing, totally inclusive children's play park for families to enjoy as one or engage with other families sharing a similar journey. Designed to complement the countryside environment and mainly wooden in structure, Tilly's Play Park is a haven of enjoyment for all. Simple family pleasure together; keeping the children amused, entertained and happy during their stay at Whiteleys. You will find sensory activities including areas of individual and group play, music, sound, textures, storytelling and mental stimulation.
At Whiteleys, we are home to alpacas, bunnies and ponies as well as the wonders of the natural environment – who visit daily; deer, frogs, birds, moles, squirrels and more. Our animal assisted therapy help children of all ages overcome their challenges.
We are also very proud of our gardens, this area has been designated to create a therapeutic oasis – central to the Retreat. The Garden of Wellbeing is a place to find peace or engage with the environment around you. A wealth of flower varieties, plant species, specialised sensory equipment and seating areas provide a simple, unified and fully accessible garden. We believe therapeutic gardens are effective health interventions and life enhancing for everyone. Our horticultural section is lovingly tended by volunteers and local community groups, families staying can help plant, water and harvest the crops (which can also be turned into dinner in the kitchen).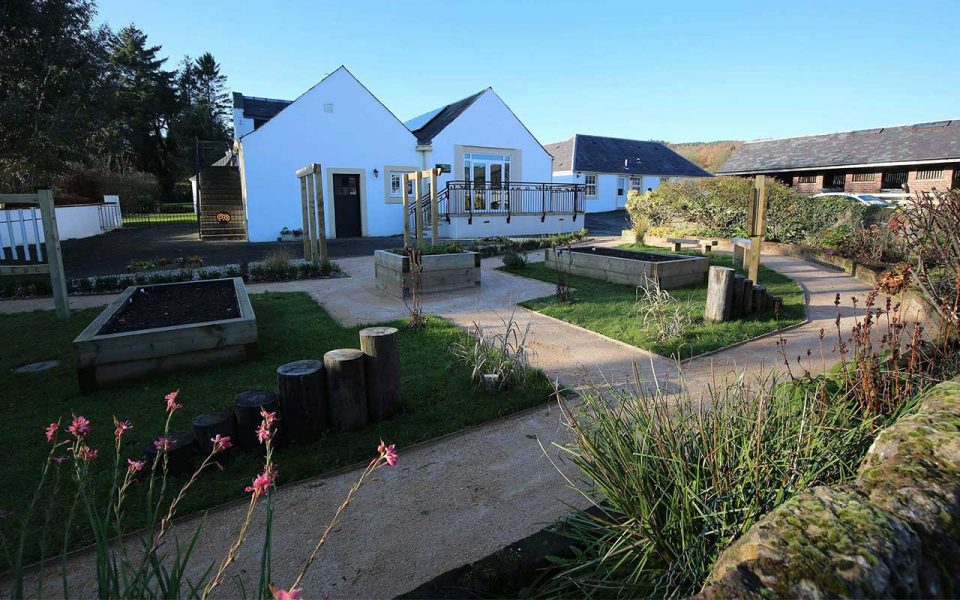 There are many beautiful spots to sit at Whiteleys Retreat but this glorious Ash Tree provides a perfect location to relax and to reflect. For years, the tree was hidden, almost trapped between two farm buildings and now with the buildings taken away, she can enjoy the space and freedom. The new eco recycled plastic tree bench wraps perfectly around the tree trunk allowing wheelchair access on the path. 
Did you know that the Ash Tree is known spiritually as The Tree of Life? How incredibly perfect.